Tabriz Tile Industrial Group, in order to move in line with the latest technology in the world and change the way of introducing products from traditional methods to modern and up-to-date methods and make a difference in the performance of sales representatives of this group compared to other companies, prepares online digital catalog for use And has provided to esteemed customers and contacts.
Another advantage of digital catalogs is the protection of the environment due to the non-printing of paper catalogs and less cutting of trees. By doing this, visitors can view the products of this industrial group digitally at any time through their mobile phone or computer browser.
In order to facilitate the access of esteemed consumers, three different methods for receiving this catalog have been provided as follows:
1- Dial the USSD code intended to receive the digital catalog link via SMS :
*6655*210022*7#
2 – Scan QR Code embedded by smartphones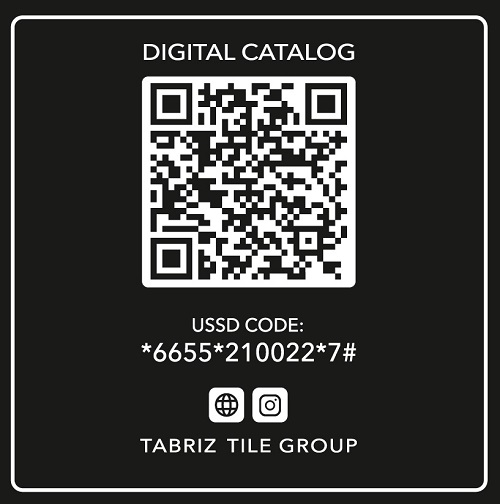 3- Sending the digital catalog link by the sales representative to the customer via SMS or messengers used such as WhatsApp and… (http://tabriztilegroup.catalogi.co)
It is also available on the home page of the website via the digital catalog hover button.
Immediately after receiving the catalog link through one of the above three methods, by clicking on it, it is possible to use the digital catalog of products of Tabriz Tile Industrial Group.